An almost infinite surface of water, glistening in the sun. A mountain which is stony and rugged, while at the same time, lush green and blooming in a vast array of colours. A fine breeze.
Burgenland, the easternmost province of Austria is noted for its Leithaberg foothills and its most famous Neusiedl Lake which borders to Hungary. This is where the small idyllic community of Oggau lies OGGAU TOURISM.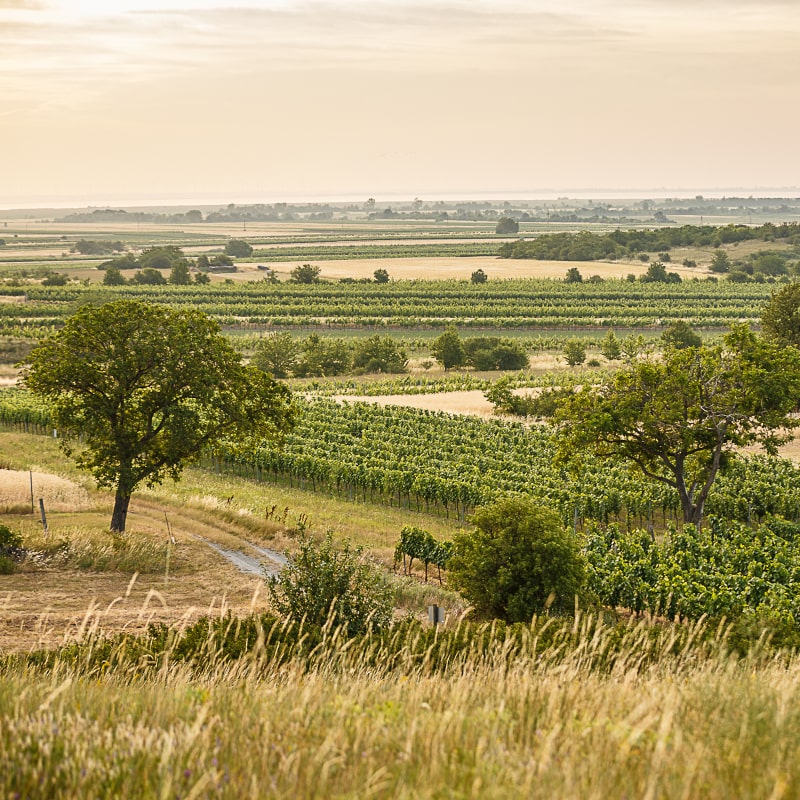 Oggau
An enchanting place.
Here on the lake's shore and at the base of the mountains, is not only where the MADs are at home, but also where holidaymakers and pleasure-seekers come to find recreation and relaxation in this small idyllic village and in its natural surroundings.
Above all, the vineyards are found in perfect growth conditions here. The terroir is naturally enriched with limestone and slate known as "Leithakalk". The cool winds from the mountain and Neusiedl Lake regulate the climate, allowing for the bountiful growth of fruity, elegant and fully ripe grapes.

Terroir and vineyards
Pure white "Leithakalk" limestone is lined up all along the foothill mountains of the Leithaberg right next to shiny brown slate.  These are the "gems" that make it possible for the MADs to grow outstanding mineral wines under the best climate conditions in the region.
The fine harmony of the variety within the soil mineral concentration and exposure enables the harvest of perfectly ripened grapes.
It goes without saying that natural cultivation methods in addition to; the grape vintage, weather conditions and special grape variety requirements are also part of the successful growth of high-quality grapes which, in the hands of a good winemaker, become high quality wines.
The best winegrowing sites in the region, above all the Marienthal vineyard, are part of the important MAD family heritage. They are cherished, cultivated and protected. They are the reason why and where great wines have been produced for generations.